It never ends
I haven't been doing a very good job of keeping this blog up-to-date, especially with all the work I have been doing to the bug, so here is all that has been done in the last month(?).
A few weeks ago I found a tear in one of my CV boots. It flung grease everywhere! When it got on the exhaust it smelled awful! and was reason alone for getting it fixed.. so I ordered new boots, but I'm not sure I was completely prepared for the greasy madness that followed. I was interested in how the CV's worked so, of course, I took them apart. They weren't horribly complicated and I was able to clean everything up pretty well. I also went to Perry's auto wrecking and picked up two more CV's for $40, a little more than I think they were worth.. I separated the badly worn from the acceptably worn parts, and after I wire wheeled and re-painted the axles, I began assembly.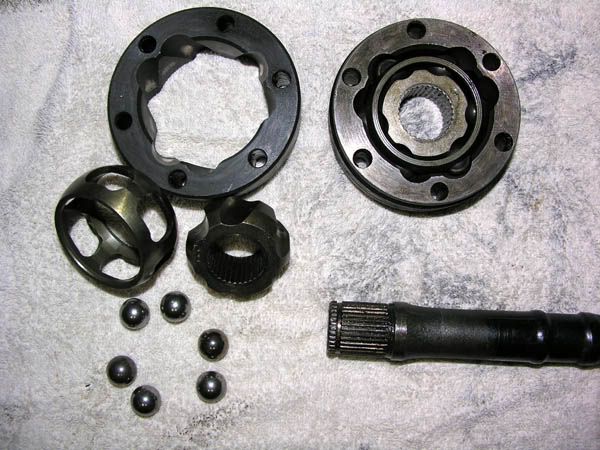 I must have jinxed it with my pompous assembly, thinking it wasn't as difficult as people said it would be, because as soon as everything was coming together all the balls fell out of both of the joints. They were already on the axle and the retaining clips in, so it was a lot more difficult to put together again. But I kept my patience knowing it could be worse; there could be grease everywhere.... I spent at least half of an hour putting them back together, when it only took a minute a piece the first time. I learned that the more grease there was the better the balls would stay in... and I reached hell at last... eventually it all came together and 28oz of Molybdenum grease later the Stink Bug was ready to drive again.. It looks good but I think the new boots are crap and will have to be replaced long before they should. They are already showing whitish stretch marks.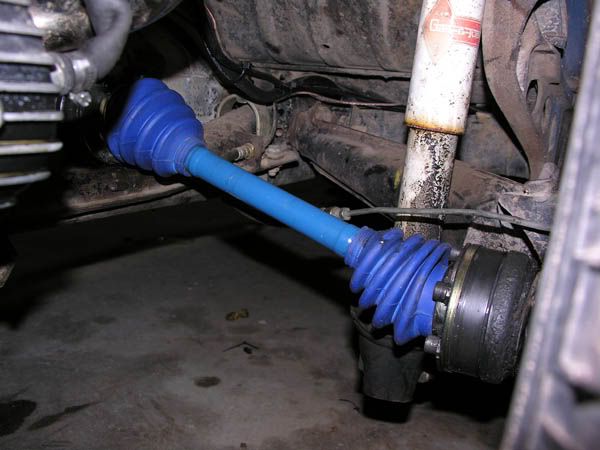 More recently I ordered an oil temperature sender and a tachometer and put them in. They wouldn't work and after a bit of troubleshooting I discovered I had mismatched wires... so I got it all straightened out.. I feel much more comfortable while driving now..
I also bought and installed a gasoline pressure regulator for the carbs. They responded well.
The other night I found that my alternator wasn't working.. with my lights on I would lose a hundredth of a Volt per second. Meaning I had about 5 minutes of driving time at night... otherwise it would keep just under 12 volts after charging the battery. I assumed it was just bad and that I would need a new one, but I did a little research and found a wiring diagram. It turns out that the "idiot light" needs to be wired to the alt. or it won't charge. I'm still only getting 6-8 amps.. but I'm not running a stereo or my light rack so its cool for now.
For about a week now I've was having symptoms that I couldn't figure out. I finally found that the front transaxle mount had split and no longer held the nose of the transaxle in place, all because the strap wasn't holding the transaxle down.. it put too much strain on the mount and it just cracked the urethane in half. The urethane mounts are crap. They are only a year old, but I have the old ones and won't have to wait for shipping.